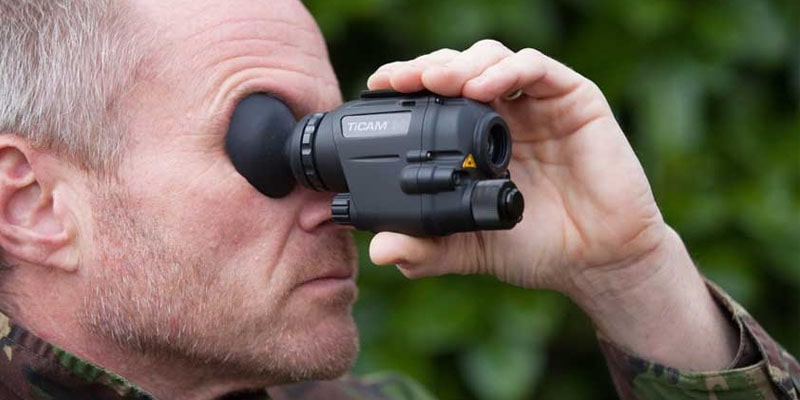 Gone are the days when you had to squint to see the desired target at a long distance, because optical devices with the function of night vision were invented. But modern technology offers even better solutions. Now everyone is free to buy a high-tech monocular with a thermal imager and see a living creature in a dark forest in any weather at a distance of more than 1 kilometer.
Therefore, we offer a brief but useful overview of the proposals of the modern monocular market.
AGM ASP TM50-336
This monocular is made of high quality aviation aluminum alloy. The device is perfect for tasks both during the day and at night. And the work of this model does not depend on weather conditions.
This monocular allows you to work with different interchangeable lenses, which makes use much more convenient due to the compactness of the device.
The manufacturer took into account the fact that such high-tech devices use a lot of energy and allowed this model to connect to an extended battery.
Robust and lightweight design of the device is combined with simplicity and ease of use at the level of intuitive interface.
The monocular is equipped with an external Wi-Fi module, video recording function, a wide variety of color palettes and digital zoom up to 8x.
This model also has a wireless remote control, is waterproof and has built-in mounts for optional accessories.
Power supply – two standard batteries.
Image refresh rate – 60 Hz, resolution 336×256.
Pulsar Helion XP50 2.5
Reliable hunting assistance when tracking a target will be provided by a Pulsar thermal monocular. This product is equipped with a built-in Wi-Fi module that allows you to easily transfer the received data to a smartphone or tablet, or broadcast directly to the Web.
This model can also record videos and take photos of the hunting process. 8GB internal memory.
This device works for up to 8 hours on a single battery charge, has a very simple interface, built-in accelerometer, rangefinder and can detect body heat at a distance of up to 2,000 yards.
The monocular is waterproof, not afraid of dust and works stably in fog.
Magnification up to 20x.
Resolution – 640×480. Yes, it allows you to see a very clear image.
The device also has a built-in 8-color image viewing palette. And the software has the ability to officially update from the manufacturer.
The set includes an IPS5 battery, charger, USB cable, case, wrist strap, optical wipe, user manual.
This model has a 3-year warranty.
FLIR LS-X 60Hz
This powerful device, priced at around $ 2,000 to $ 3,000, is perfect for anyone.
The improved eyepiece display has a high resolution.
Operating temperature from -20 to +50 degrees Celsius.
Battery life from one battery charge up to 5 hours.
This monocular can detect an adult at a distance of about 600 meters.
Field of view – 17 degrees.
Digital zoom up to 4x.
This device comes with a wrist strap, bag, USB cable, video output cable.
Yes, this device can transfer images to other digital media.
Leupold LTO Tracker 2 HD
This is an innovative thermal star device from a well-known American manufacturer of high-quality optical sights.
This model is compact to carry both in a backpack and just in your pocket.
This monocular has an automatic temperature marker mode and manual correction.
Also, the software of this product has the ability to be constantly updated, which ensures maximum performance of the monocular.
Brightness adjustment.
Digital zoom up to 7x.
The device provides a detailed and smooth image.
The target becomes visible with this device at a distance of about 700 meters. Field of view – 18.5 degrees, ie on the hunt you can follow even the target, which moves quite quickly without losing sight of it.
The eyepiece in the form of a 30mm display has a resolution of 390×390 pixels. The image can also be transmitted in six light palettes.
It is easy to get used to this device. It is ready to work in 3 seconds after launch and is controlled by only three buttons.
Power type – CR123 battery, which can operate continuously for up to 10 hours.
The device is completely waterproof. Therefore, this monocular can be safely used in the rain or when overcoming water obstacles.
Product dimensions: 144 mm.
Weight – 198 grams.
ATN OTS-Thermal Smart HD 640
Thermal imaging monocular from a well-known manufacturer is able to take quality pictures right during the hunt, as well as record quality videos, which can then be shown to friends.
With this device, you can detect a warm target at a distance of up to 2,500 meters, determine the type of target at 1,100 meters and clearly identify the features of the target at a distance of 600 meters.
The Obsidian Core OTS-HD integrated computer offers the fastest today processor.
The device is equipped with a high-precision rangefinder.
Unlike such devices, this model has a very smooth zoom, which affects not only the hunting process, but also the user's vision.
Interestingly, such a high-tech device has a fairly clear user interface, which allows you on the way from the store to the house to quickly understand all the available functions of the monocular.
This model has a barometer, gyroscope and electronic compass.
And the available Bluetooth and Wi-Fi allow you to control the device directly from your smartphone or tablet.
640×480 pixel sensor.
Magnification up to 50x.
1280×960 video resolution at 30 frames per second.
Built-in microphone.
Power type – 4 AA batteries from which the device will work up to 8 hours continuously.
Dimensions 271x101x88mm.
Warranty – 3 years.
So now everyone can choose a high-quality and modern device for tracking targets at night time and on a long distances. And the results of the observation can be recorded and broadcast when it convenient.
At first glance, it may seem that such devices are too expensive for a simple hobby. But it's really a way of life, improving of your skills and empowering. Life is an unpredictable thing and the ability to use a thermal imager can help a lot. And its presence at the user – even more so.