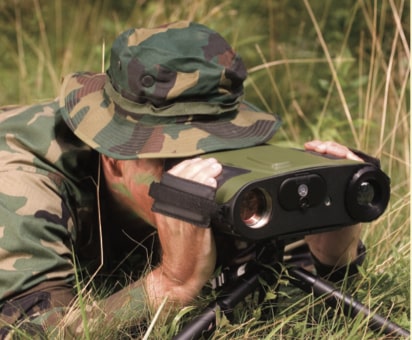 Seeing far is a long-standing dream of mankind, which came true with the advent of optical devices made of tubes and lenses. And seeing far in the dark became possible thanks to night vision devices. However, in reality it can be even better – to see far away, in the dark and in any weather conditions. That is, technological progress has provided humanity with binoculars, thermal imagers, through which you can see a deer at night, through the snow at a distance of more than 1 kilometer.
And now let's try to tell a little about what the modern market of such devices offers us.
AGM COBRA TB50-33
This model costs in the range of 4,000 – 5,000 US dollars and has a lightweight reliable case with state-of-the-art electronic stuffing that can work in any weather conditions.
These binoculars can also be controlled remotely.
This device works with a variety of color image modes that can be customized to suit your own taste and the environment.
The binoculars are equipped with a FLIR Tau 2 temperature sensor and a dual eye examination system for a comfortable long session. The eyepiece and lens are easily and conveniently adjustable. The device is equipped with digital zoom up to 8x. The binoculars have an external Wi-Fi module via micro-USB. Also, this model has several convenient mounts for additional accessories.
Display refresh rate – 60Hz. Resolution – 336×256.
ATN BinoX-4T 384 Thermal Binocular
This model is very well created for night hunting from the manufacturer ATN. Temperature sensor – 384×288, battery life more than 15 hours, lens – 50mm.
This binoculars distinguish the target even at a great distance, using 4.5x-18x magnification.
New software and an intuitive interface will help to use this model as conveniently and productively as possible. The device is equipped with a gyroscope, compass, built-in backlight. Smooth zoom mode, Wi-Fi.
And the device has its own microphone.
That is. The result of this binoculars will be visible not only when used directly in the depths of the night forest or something, and anyone who can send the resulting high-quality image via Wi-Fi tablet, mobile or computer.
The advantages include: intuitive control, several built-in functions and low price of the device.
Binoculars are equipped with a 640 x 480 temperature sensor, F50 / 1.2 lens and are designed for more than 8 hours of operation.
This model is equipped with a 384×288 thermal sensor, which allows you to get high quality images and videos and recognize thermal radiation from living beings in complete darkness.
These binoculars have a lightweight design and work with a smaller power source, so the usage time increases proportionally unlike other binoculars.
The device can magnify the image 20 times. Yes, that's a lot for binoculars. That is, the user will be almost not limited in their field of vision.
Auto-fix the image allows you to move with binoculars and not lose targets.
The device also has a noise reduction function for video.
The electronic system of the model allows you to record videos lasting up to 2 hours and take 1000 thermal photos in high resolution.
The thermal sensors of this model of binoculars can detect people at a distance of up to 2.5 km and vehicles up to 3.5 km. Yes, that's why it's used by the police.
And of course this device is moisture resistant, shockproof, suitable for use in all weather conditions.
Product weight – 1540g.
Dimensions – 213x127x114mm.
Temperature range for use – -40 – +60 degrees Celsius.
DALI S730 Thermal Binocular
This binoculars are equipped with a 384×288 display and a field of view of 10.3 degrees.
The frame rate of the image is 50 Hz.
Autofocus.
Digital zoom – 2x.
Image noise reduction and optimization available.
A built-in memory card with a capacity of up to 100 images is available.
The battery lasts for 3 hours.
Operating temperature -30 degrees Celsius to +50 degrees.
Product dimensions: 263x127x114mm.
These binoculars are an ideal solution for hunting, protecting forests, borders and just observing wildlife.
FLIR Command 336 3-12x50mm
The high-quality model, priced at around 3,000 to 4,000 US dollars, comes from the latest line of the technological family of binoculars and, in addition to modern design, also has a very good perception of image depth. Let's start with the fact that we have a solid non-cooled long-wave infrared thermal imager which is equipped with a zoom function. The product works reliably both at night and during the day. And most importantly – this model is able to work regardless of weather conditions (snow, rain, fog or something). This device is often used by the military and police because it is difficult to detect with other devices.
These binoculars can work with video in NTS and PAL, while remaining quite simple and easy to use. The device is equipped with digital zoom up to 4x. The binoculars also have 12 color modes, ie you can choose which color to illuminate the target.
Convenient eye patches relieve vision and allow you to use binoculars longer than other models.
And it is worth emphasizing once again – this model is waterproof, made of aviation aluminum composition. That is, reliable but easy.
You can operate this unit as soon as it is turned on.
Includes video cable, soft case, optical wipe, 3-year warranty and user manual.
This high-tech product can detect a thermal signal at a distance of up to 1,400 m.
Power – two AA batteries.
This model has a digital correction to create a difference in image contrast, image sharpness correction, information alignment of graphs, image shutter speed.
Pulsar Accolade XP50
In the price range of 5,000 – 6,000 US dollars, this product has a screen resolution of 640×480, making the surrounding area very realistic.
The main task of this device is to detect objects at long distances. That is, through these binoculars you can see a deer at a distance of up to 1,800 m. In addition, this binoculars have a fairly smooth magnification, which allows you to quickly zoom in on real-time images. Each binoculars evenly distributes the load on the eyes, because the human brain usually receives images from both eyes. In addition, these binoculars also have the function of adjusting the distance between the eyes.
The display refresh rate is 50Hz, which makes tracking moving targets much easier.
On the body of the product there is a special button for recording video and taking pictures of the resulting image. This allows you to quickly capture everything that falls into the binoculars lens.
A special mobile application allows you to broadcast images directly from this device via Wi-Fi directly to the Web.
The strong and thought-over design of the device allows to use it at extremely low temperatures around -25 Celsius or high to +50 degrees.
The device is also equipped with a rangefinder. And it is very difficult to overestimate this function.
Power type – IPS5 battery pack, which provides more than 8 hours of operation.
And also these binoculars are completely protected from moisture. That is, even if he falls into the river and lies there for half an hour, when he is found, he will continue to perform his functions. That is, rain for this binoculars is not a problem at all.
An additional important feature of this device is the image mode inside the image. That is, you can see the approaching object and the whole area in the lens at the same time.
The binoculars are equipped with eight color palettes to increase functionality and simply comfort the user.
Thus, thanks to this review, you can roughly imagine the proposals in the market for the creation and sale of thermal binoculars.