Best Night Vision Monocular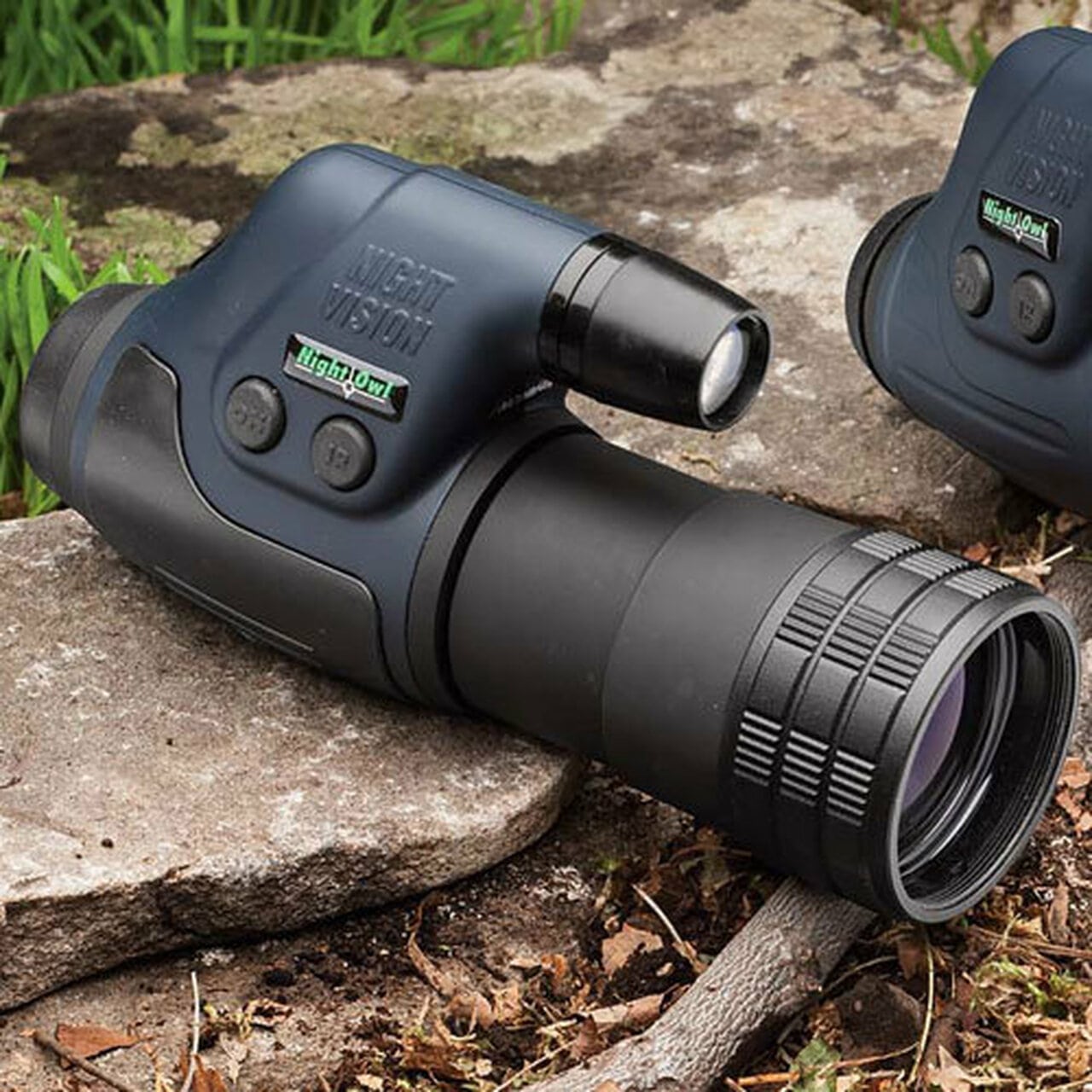 When you need to see the target quickly and reliably in the dark, you need a night vision monocular. Such a device is easy to use, light, usually waterproof, often high-tech and relatively inexpensive. When using a monocular, you can always have one free hand and one free eye, which will watch in natural conditions, which will not create too stressful contrast for the observer.
In general, night vision monoculars are used for hunting, security, research missions, police operations, recreation, mountaineering, or more.
The device consists of a lens, signal amplifier and eyepiece through which the user sees the image enhanced by the amplifier.
Often such devices are attached to the weapon instead of the sight and have laser pointers. However, it is easiest to use a monocular to detect and track a target.
The older generation's night vision devices simply amplified the dim light of the environment. Newer models use ultra-sensitive matrices that detect very low light and then translate it into a digital signal, amplifying and transmitting to the display.
In addition, the monocular is almost twice as cheap as binoculars. We think it's easy to guess why.
However, such products consume less energy, last longer and have small dimensions.
ATN OTS-Thermal Smart HD 640
Thermal imaging monocular from a well-known manufacturer is able to take quality pictures right during the hunt, as well as record quality videos, which can then be shown to friends.
With this device, you can detect a warm target at a distance of up to 2,500 meters, determine the type of target at 1,100 meters and clearly identify the features of the target at a distance of 600 meters.
The Obsidian Core OTS-HD integrated computer offers the fastest today processor.
The device is equipped with a high-precision rangefinder.
Unlike such devices, this model has a very smooth zoom, which affects not only the hunting process, but also the user's vision.
Interestingly, such a high-tech device has a fairly clear user interface, which allows you on the way from the store to the house to quickly understand all the available functions of the monocular.
This model has a barometer, gyroscope and electronic compass.
And the available Bluetooth and Wi-Fi allow you to control the device directly from your smartphone or tablet.
640×480 pixel sensor.
Magnification up to 50x.
1280×960 video resolution at 30 frames per second.
Built-in microphone.
Power type – 4 AA batteries from which the device will work up to 8 hours continuously.
Dimensions 271x101x88mm.
Warranty – 3 years.
Cost – 4000-5000 dollars.
Armasight Spark CORE
This model is a night vision device in the form of a monocular that works on a digital principle.
Optical magnification up to 3x.
Focal length 35mm.
Viewing angle – 30 degrees.
This model has a built-in infrared illuminator with a capacity of 50 mW with a focusing lens, protection against dust and water, shockproof.
Power type – CR123 battery, which provides up to 40 hours of continuous operation at temperatures from -40 to +50 degrees Celsius.
The weight of the device is 370 grams.
This device can be freely used as a handgun, as a sight for a weapon or attached to a helmet or special head mount.
Includes battery, fabric for optics care, soft bag for transportation.
Lens lens diameter – 20mm.
The minimum focal length is 0.82.
The size of the device is 159x49x82 mm.
Weight – 370 grams. That is, it is a small but reliable optoelectronic device that can be safely purchased for a relatively low price of 600 – 700 dollars.
Warranty on the device – 2 years.
Cost – 400-500 dollars.
Firefield 5 × 50 Nightfall 2
This monocular provides high image quality and resolution, has a powerful infrared backlight. The device is equipped with a special tripod mount. And ergonomic design and ease of use will delight any user.
The device is equipped with a 50mm lens and 5x magnification at a viewing angle of 15 degrees.
In work with the device rough and exact focusing, adjustment of diopters is possible.
The monocular has a comfortable rubberized handle that sits securely in the hand.
This model is able to detect a person at a distance of 200 yards.
The body of the device is waterproof, which allows you to use it in the rain or in high humidity.
The cost is 60-100 dollars.
Bushnell Equinox Z Night Vision Monocular
The night vision digital monocular has a 3x magnification with a 30mm multilayer lens. The device is equipped with an infrared illuminator with three settings that control the selection of resolution and image quality.
The device has a video input port that allows you to connect to other digital equipment to record video directly from the monocular. The device is also equipped with mounts for compatible accessories.
Power type – 4 AA batteries, continuous operation – 14 hours with infrared port off and 7 – with on. To save an energy, the appliance switches off automatically after 10 minutes of inactivity.
Surveillance range – 500 feet with infrared port on.
Dimensions: 58x105x200mm.
Weight – 425 grams.
So if you need a small, light but reliable night vision monocular, Bushnell will work out every center that was paid for it.
The cost is 200-300 dollars.
It should be concluded that the monocular is a good helper for the night hunter and today there are a large number of different models on the market from which the user can choose the device for certain tasks and within a certain price range.